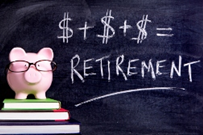 The new Setting Every Community Up for Retirement Enhancement (SECURE) Act signed by the President on Dec 20th. 2019 represents a significant overhaul of the nation's retirements landscape and has implications for individuals as well as businesses.
While there are several aspects of the new law, among the most discussed are those that pertain to new opportunities for businesses to offer comprehensive retirement plans to their employees.
Some of the law's provisions are:
Small businesses can now band together to offer common retirement plans.
Employers can now include annuities in 401(k) plans.
Employees are not required to choose the lowest-cost plan.
Small businesses can now more easily auto-enroll employees in 401(k)s since the law increases the cap under which they can automatically enroll workers in "safe harbor" retirement plans, from 10% of wages to 15%.
The law provides a tax credit of $500 per year to employers who create a 401(k) or SIMPLE IRA plan with automatic enrollment.
It enables businesses to sign up part-time employees who work either 1,000 hours throughout the year or have three consecutive years with 500 hours of service.
As you can see, there's quote a bit to this new law and while the overall effect on the nation's retirement preparedness is debatable, small businesses now have several more arrows in their collective quivers to help.