Flood Insurance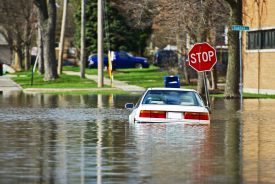 Are you in an area with a High-Risk for floods? Did you know that anywhere it rains, it can flood? Just because you haven't experienced a flood in the past, it doesn't mean you won't in the future. Flood risks are based on a number of factors such as rainfall, river-flow, topography, flood-control measures, and changes due to building and development.

California, Florida and Washington flood risks can change over time for many reasons. New developments, changes in levee classification, and environmental changes are a few reasons. Spring brings warmer temperatures and heavy rain. Melting snow and rain can result in the overflow of streams, rivers, and lakes that can flood nearby homes and businesses. Flooding happens every day in all regions of the country. Floods are the Number 1 costly natural disaster in the United States, and Flood Insurance is not included in most California homeowners policies. Consumers must prepare for flooding no matter where they live. It is important to know that just a few inches of water in a home can cause thousands of dollars of damage.

Flood insurance is offered under FEMA's National Flood Insurance Program and can be purchased through your insurance agency. Rates are set and do not differ from company to company but depend on several factors. Cost vary depending on how much insurance is purchased, what it covers, the property's flood risk and elevation, and chosen deductibles. Payment must be made for the full year's premium and checks or credit card payments are accepted. Flood Insurance is available to homeowners, renters, condo owner, and commercial owners and cover physical damage to your property and possessions.

There is typically a 30 day waiting period from the date of purchase before your policy goes into effect but that is waived under certain circumstances. Now that Spring has arrived it is a good time to talk to our agents about adding this coverage for your peace of mind.