Homeowners Insurance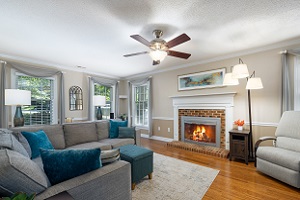 Your home is probably one of the biggest investments you'll make in your lifetime. You will want to make sure you have this asset properly insured to protect you in the event of a disaster. A standard policy will protect the home itself and your personal belongings. Home insurance is usually a package policy covering damage to your property and your legal responsibility for any injuries and property damage caused to others by you, members of your family, or in some instances, your household pets.
Homeowner's Insurance
To limit confusion insurance among consumers, insurance carriers use standard forms to write homeowner's insurance. Doing so allows consumers to more easily compare insurance quotes and/policies. It also the insurance-buying public them a better understanding what coverages they are getting without having to read and understand the arcane legal verbiage of insurance contracts.
Here's a list of the more common types of coverage found on homeowner's policies. .
Coverage A: This is the maximum amount of insurance coverage that the carrier is committing to rebuild a home after a total loss. Essentially this is the amount of insurance that you are insuring your home for. Note that this covers only the structure itself. Other related coverages are list below.
Coverage B: This represent Other Structures coverage - covers non-habitable structures like storage sheds, fences, pool enclosures, etc. Note that additional living units (ADUs) will need to be separately underwritten. That means that if you have a separate "habitable" (living space) on the premises, it will need to be underwritten separately.
Coverage C: Personal Property - This is the maximum amount available to a homeowner to replace their personal belongings. Items such as clothing, furniture, personal electronics are covered here. Appliances are covered under Coverage A since they are attached to the structure and are treated as part of the structure.
Coverage D: This is the Loss-of-use coverage. In the event of a loss where the home is uninhabitable, and the homeowner needs to temporarily reside elsewhere, this coverage helps with expenses related to such a situation. Such coverage is very helpful since the homeowner will usually still need to make mortgage payments -in addition to new rent payments.
Coverage E: Personal Liability: Liability coverage generically means 'money that's paid out to others on behalf of the insured. An example of such coverage would be an instance where a tree from the homeowner's property falls and damages a neighbor's home, auto or other property. Since the homeowner is liable (it's their tree), such costs would need to be fully borne by the homeowner, if they did not have liability coverage.
There's much more to this coverage but each situation would need to be reviewed by a claims adjuster to determine what's covered and what's not.
Coverage F: Medical Payment to Others: This covers expenses related to immediate medical care for others. As an example, let's say that at your back-yard barbeque event, at your home, a visitor trips and falls and needs immediate medical attention - e.g. a ride to the local hospital. Coverage F covers such a situation.
In addition to the above coverages, a homeowner should be aware of a few more items in the insurance contract:
The settlement basis for claim.
Some claims are settled on a Replacement Cost Valuation (RCV) method and others are settled on an Actual Cash Value (ACV) basis.
As the name suggests, replacement cost settlement is meant to provide enough funds to replace the damaged/lost/stolen item(s).
ACV provides funds that reflect the current market value of the item. This could represent a significant difference in the amount of money the homeowner receives from a claims payout. If applied to a roof, for example, ACV takes into account the "useful life" of the roof.
So let's say that a roof is rated to last thirty years and is twenty-eight years old when the homeowner files a roof claim. Under ACV, the carrier will pay very little, assuming a linear depreciation schedule - at two years left on a 30-year roof, that's roughly 7% of the cost to replace the roof.. RCV settlement however, would pay the full amount to replace the roof.
Exclusions:
This is one of the most important parts of the policy but it usually the most underread. This tells the policy holder specifically what is not covered in the contract. This must be read and thoroughly understood before buying any insurance policy.
Ordinance or Law
For the safety of those living in your home, it's important to stay up to date on any code changes pertaining to weather, fire safety, plumbing, wiring, and handicap accessibility. Paying out of pocket for renovations to comply with new mandatory state codes can be costly. With an ordinance or law coverage policy, you are covered for upgrading your home based on any state mandated criteria.
Extras (Optional Coverages):
Some carriers offer bundled coverages that are built into the policy at no extra cost to the insured. Usually there are default limits to those coverage items which can be raised (for additional premium)
In addition to those included coverages, most carriers offer other optional coverage such as appliance repair, sewer backup, etc.
Landlord Insurance - Residential - Dwelling FireLandlord policies (for one-to-four-family homes) offer coverages similar to those in a homeowner's policy. Here, the typical policy is a Dwelling-Fire Policy (or DP policy). DP policies come in three basic types: DP1 - DP2 and DP3. DP1 offers the most restrictive coverage and DP3 offers the widest coverage.
Two things to look for in a land-lord policy is Loss-of-Rents coverage and wrongful eviction. Many carriers have eliminated wrongful eviction coverage from their landlord policies, so landlords and agents have to extra vigilant to make sure that it's offered.